Read what customers have to say about their FAY'S2 Watts Link installations and results.
"Finally the car handled the way it should."
From: Scott Clugston
Date: August 10, 2008
Jim,
Hi Jim, I wanted to let you know how your watts link changed my GT 500. Prior to installation, when I put the car hard into a curve it was difficult to tell when the suspension was going to set and when it did it still wasn't very stable. Probably the worst part was that there wasn't any consistency in what the car was going to do. under steer, over steer, you just never knew what to expect. After I installed the watts link I took it hard through some sharp curves to see if any thing had changed. Wow, I was amazed, Finally the car handled the way it should. The car's suspension set and stayed set. I feel body roll was also minimal. But most importantly the car was predictable and stable. A huge difference. This is a very worth while Mod.
Another thing I wanted to say was thanks for the follow up call when I was doing my installation to see how I was doing. Customer service is almost a thing of the past these days and it was a pleasure to know somebody still cares. If there are any non believers out there they are welcome to drop me a note. Thanks again, Scott Clugston. regalt87@aol.com
regalt87@aol.com
Now we're talking!! Adjusting the roll center height changes the characteristic of the car but no matter the setting, the car was predictable and controllable.
From: "Peter Blanchard"
Date: September 25, 2008
Driver Background
SCCA Road Racing for a decade
SCCA National license, competed in and held SCCA Pro series license
A handful of Northeast Season Championships in SRF
A few thousand laps around NHMS
A dozen wins at NHMS
Set lap record at NHMS in SRF
Instructor for SCDA
New Hampshire Motor Speedway
Used "South Chicane" configuration. NHMS is choppy, primarily left hand, 1.3 mile road course full of abrupt transitions, pavement changes, banking, an off-camber turn, hard braking, abrupt uphill and downhill compressions when crossing over the NASCAR back straight. Turn 1 is a transition down from the banking for NASCAR Turn1 (similar to Daytona's road course Turn 1). South Chicane course turns hard left and drops off the banking, into the infield, through a left/right/left chicane and then launches out onto the back straight before crossing over the back straight onto the back half of the road course.
Day 1- dry, sunny, mid 70's, tire pressures hot = 37
Stock GT500 -panhard bar, no Watts link
As expected, the rear end behaved erratically - hopped, darted, lots of body roll. Hands and feet were pretty busy. Car was a handful, pushed on entry, loose on throttle-on exit. Other than the "amusement" of sliding around and counter-steering, the stock vehicle, for track purposes is an ill-handling brick with a blower.
Day 2- started damp but dried out by middle of 1st session, sunny, low 60's, tire pressures hot = 37
Stock GT500 with Fays2 watts link
Session 1: Fays2 neutral setting - propeller was centered in middle hole.
Car was MUCH more behaved. Less yaw, less roll, less hop. Although the push did not go away (nor should it), the car was more stable and the best description was the rear was significantly dampened. That, in turn, instilled some confidence and predictability and I could counter the push-on-entry by trail braking. The car still rolled like a boat but the Fays2 made the roll more consistent from side to side. That consistency was very noticeable in the left/right/left chicane. The car would roll over and load up, but the unloading and transition to the right and then again back to the left was predictable and I could roll the car through the chicane with some natural rhythm. Acceleration on exit will always be exhilarating with this car. Always remember the Friction Circle-you want to mash the go pedal?-unwind your hands. With that being said, compared to the panhard bar, I was able to get the power down more consistently on the various exits.
Session 2: Fays2 lowered roll center-propeller was lowered one hole below neutral.
Now we're talking!! Yes, it's still a dull blunt instrument but this car was actually becoming FUN to drive. (Note: if you wanted a scalpel for a track car-you should have bought an Elise.) What I felt in Session 1 was now enhanced across the entire track. The rear was further dampened and handling predictability increased. The lowered roll center gave me better bite when accelerating and better grip at middle-turn. Trail braking was a breeze and now being able to rotate the car with TTO-Trailing Throttle Oversteer not only made for a better entry but helped in saving the right front rubber.
Session 3: Fays 2 raised roll center-propeller was raised one hole above neutral (raised 2 holes above Session 2 setting)
If you want to try your hand in a drifting competition, try this setup. This was a handful. I mention the drifting because the setup was breaking all four tires loose and it was a full four wheel slide through the corner. The great bite and grip I had from the previous setup was completely gone. There was a lot pedaling trying to accelerate the car and still keep it under me. But here is the interesting point on this setup. Although it was a handful, it was a predictable. No snap oversteer, no real scary moments, just a lot of sliding, pedaling AND slower lap times. It felt like I was running around on bias-ply's.
Summary:
Hands down, a Watts link positively improves the dynamics and handling of the car. "Dampened", "behaved", "settled" were all terms I used to describe the characteristics of a Watts link in Sessions 1, 2 and 3. However, the word I used the most is "predictable." Adjusting the roll center height changes the characteristic of the car but no matter the setting, the car was predictable and controllable. What is also really important is that there was a Session 2 and Session 3. If I used a different link setup with no adjustability I still would have experienced the benefit of the a Watts, but would have not been able to explore the handling characteristics of adjustable roll center and would not have had the advantage while driving the car in Session 2. For those of you with adjustable shocks, adjustable struts, programmable chips, etc.-why would you want to bolt on a non-adjustable Watts?
Now, ignore all the on-track feedback for a moment and let's talk about commuting. My comments regarding the ride home on the public roads are the same as what I felt on the track. No, I didnÕt have to worry about front end push while turning into my driveway nor having to trail brake into Dunkin Donuts. But the rear end was no longer jumping erratically over un-even pavement and expansion joints-it was dampened, settled and predictable. My wife even noticed the improvement while riding shotgun. I left the track having reset roll center to one-below-neutral. Right now, that's my daily driver setup. Next time at that track, I'll compare -1 and -2 below neutral.
Peter
ptblanchard@earthlink.net
Walter Pucci has found a "Performance Optimizer" for his S197
From: "Walter Pucci" Date: Sun, 24 Feb 2008
Jim,
The Ford Mustang is one of the most significant cars in automotive history. It is the first car that introduced the drivers to the concept of "speccing" their vehicles according to their tastes and needs.
With advancements in technology and consumer knowledge it was a disappointment to see that the manufacturer still relied over 40 years after its introduction on the surclassed live axle design to shape the Mustang's handling. This is where the Fays2 watts link comes in.
By replacing the panhard bar and brace with a Fays2 unit the driver can look forward to improved steering feel, handling, road holding but also noise suppression from the suspension. Grip is maximized by creating a center pivoting point on the axle, keeping it from swaying erratically during the turns. The results are a car that turns tighter, accelerates smoothly, and stops even harder. Immediately after the bolting the unit on I witnessed a drop in cabin noise going over road irregularities as well as an increase in steering precision as the rear axle started following closely the steering wheels. I can now use all the power the car has without worrying about the rear end being upset by the local roads or track irregulrities as all suspension, braking, steering AND drivetrain components are optimized. Even the LSD felt like it was engaging more convincingly through the turn not having to deal with wasted wheel motion and spin.
The Fays2 Watts link is thus the "PERFORMANCE OPTIMIZER" that the Ford Mustang is needing. Those who have not had the chance to try it don't know what they are missing and that is a car that responds to the driver's inputs in a way unlike any other Mustang can.
Walter J. Pucci Automotive and Motorsports news editor/writer for InfoUSA Magazine
Tex McCann's restomod from down under (Australia for the geography challenged)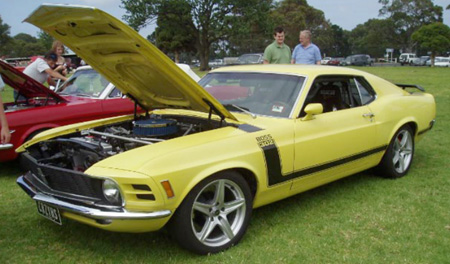 Hi Jim,
Well after a few years and many $'s the car is just about ready for its first Tarmac rally. Still plenty of last minute fiddly bits and pieces to do before the Rally start on 18th Feb. The Watts Linkage was fitted a couple of weeks ago, along with the Koni External double Adjustable shockers. I had to re-route the exhausts to come out on each side of the car just infront of the rear wheels. ( Looks pretty good too!) Anyway, the Sunday after I got the car back I went for a hard drive in the mountains on a very twisty road, not really suited to a big car, but the handling was way beyond my expectations the rear end was glued to the road, it was flat and sure, and just gave me more and more confidence. I found that if I went thru tight corner off throttle it would 'push' a little, but the best way was to brake before hand and just drive thru them on throttle, it was awsome. Still need to tweak the shockers a tad, but for the first time out in hard drive I was very impressed. Can't wait for a full on track day...but the Rally should be interesting. I have already signed up for a 6 hour Team relay regularity run (can't call it a race!) at Phillip Island in August. The car should be pretty sorted by then, if not that will sort it out!. More later. (after the rally) Thanks for a great product...from downunder
Thanks for a great product...from downunder Tex
Tom Clark's 2007 Shelby GT500
From: "Thomas Clark" Date: Mon, 26 Mar 2007 21:12:31 -0400
Jim,
I have just installed your FAYS2 Watts Link. I must say it makes an incredible difference in the handling of my 2007 Ford Mustang Shelby GT500. One of the reasons I decided to replace the factory pan hard bar was the movement of the rear end of the car. For instance when you fill your tank with fuel and measure from the wheel and to the lip of the quarter panel, then with an empty tank of fuel do the same measurement. You will see .180" of and inch difference. I made an assumption this is not a good thing for handling and I started doing research. I did talk with other Mustang enthusiasts and they sent me to a number of web sites explaining theory of a pan hard bar and a Watts Link. I then found http://www.fays2.net and I read a testimonial from Steve B. and I was very curious. He was very helpful and showed me the way. I am very happy with the FAYS2 Watts Link and would recommend it to any Mustang owner what a difference. I am not a track racer but I love to cruse and enjoy the car and even in street applications it makes a huge difference. You will really notice when you go over uneven pavement the rear end of the car feels solid and sure footed. One last note I called Jim for technical assistance on a Saturday and also on Sunday and he answered the phone and helped me while I was setting it up. It is one thing to have a quality product but quite another to have good support. Thank you Jim... If anyone has any questions I would love to answer them...My email is tomc37@wideopenwest.com
Thank you Tom
Don Schlegel built Gen One Camaro with FAY'S2 Watts Link and aluminum dif cover.






Dan Haynes, 1970 Boss clone vintage racer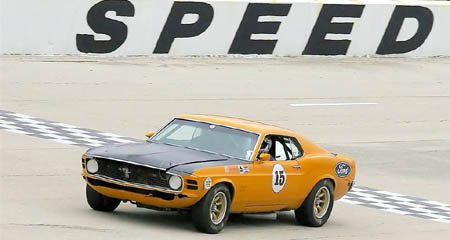 Jim, WOW! What a difference. The Fays2 Watts link completely changed the way the car handles. I was totally amazed. Previously, I struggled with the car in several sections of my "home track", Texas World Speedway. There is a particularly difficult section for me which features a sharp, fast left followed quickly by a right and then another quick left. At the end of the second left, you are up on the long front straight. I was never really able to take this set of corners very good, and it cost me a lot of time. With the Fays2, the car was immediately easier to handle through this transition. The car no longer felt like it was right on the edge of disaster the whole time. I was much smoother and faster through this section. Also, I found myself driving much faster throughout the track. I have to completely re-learn how to drive, as I'm now approaching ALL the turns much faster. I attribute this to exiting the previous turn smoother and faster. Some folks told me the Fays2 made their car handle like it was "on rails". I completely agree. I just didn't believe it would make that much difference. I'm not a test development engineer, so I can't quantify all that is going on. All I know for sure is the only change I made to the suspension was the addition of the Fays2. I ran the exact same tires I ran 6 weeks ago, on the same track with the same car. There has been no engine work at all. I feel much more comfortable on the track now. The car is much easier to drive everywhere. Thanks for the great product and the great after the sale support. I've told all who will listen to me how much of a difference this system made. Cheers, DANIEL R. HAYNES, Maj, USAF
Geg Grillo, Gen 2 F-Body vintage racer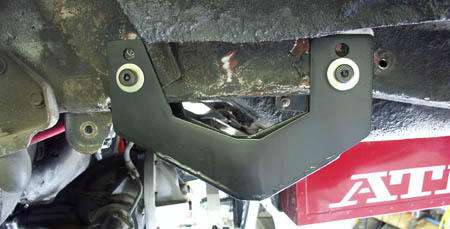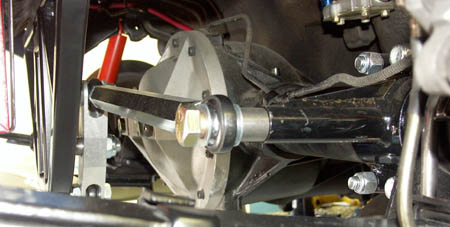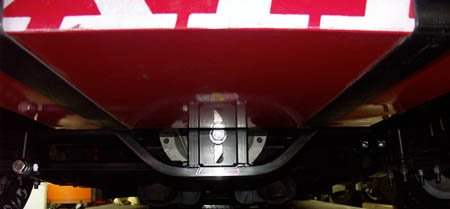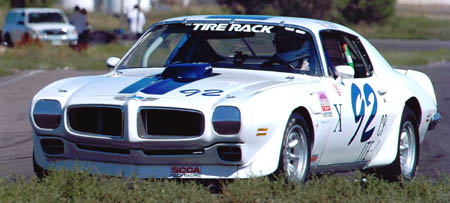 Jim, Some pictures of the 71 TransAm install as well as pictures from the car at the Rocky Mountain Vintage Racing Trans Am Invitational.,works like a charm..........Gary Grillo
Brion Gluck, 1971 vintage racer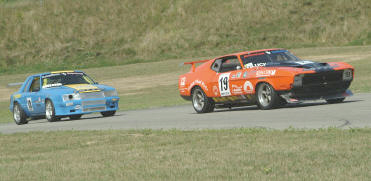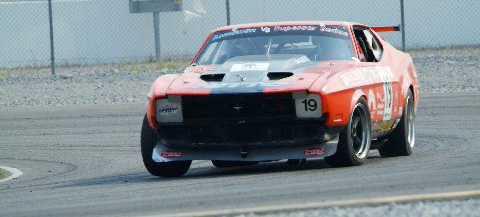 Jim, "The car handles better than I would have believed a 1971 vintage chassis could have. I can drive around the competition with more confidence and precision than an old Mustang has any right to. The FAYS2 watts link has given my old war horse a new lease on life!" ......Brion Gluck.
Mike Case, S197 Street Car
Jim, First off, great product! The car handles so much better it feels like a different car. When I installed the Watts link I had to remove my Ford Racing rear sway bar, it would not fit. I am now running with the OEM rear sway bar, but would like to change it out. Can you please let me know what sway bar (or bars) will fit? On your web site you show a Steeda Mustang, I am thinking then a Steeda sway bar but would like to confirm before I buy. Thanks again! Mike Case
Glen Brewer, S197 Street Car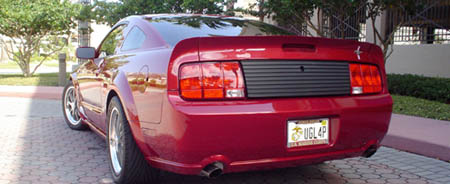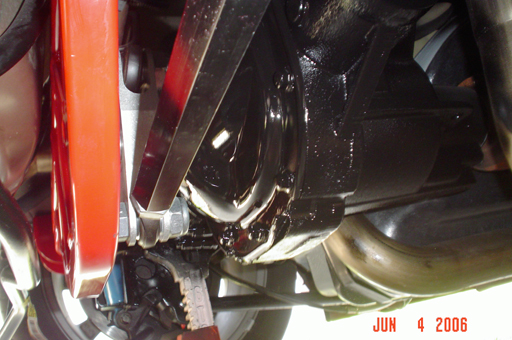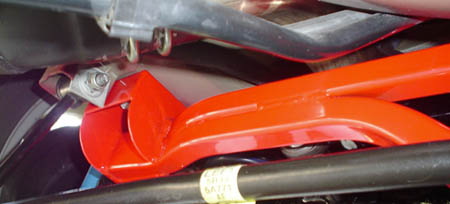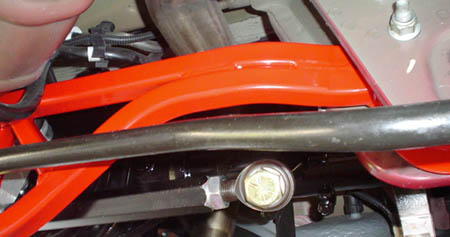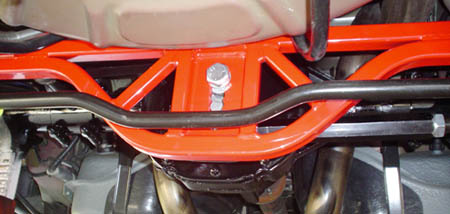 Jim, not say for sure that I saw it on your website about the diff cover, only that I thought I had. On the snap lock deal, it shows a drawing with an arrow pointing at the snap ring and then the assembled illustration is rather busy so you have to pick out the snap ring. I didn't see where it says specifically that the snap ring should face the diff. I personally would take the illustration of the bolt and spacers and incorporate the watt's frame and bell crank to show the assembly process. It could be less confusing for the novice. Have been unable to track down any competition yet. So far, I have confirmed that the bump stops need trimming and the rear shock need better rebound over dips. But again, it could be the bump stops. The rear does ride better. No additional noise inside the cabin. There is this one spot that has a ripple in the road that actually would lift the rear and you could hear the engine rev when the tires left the ground and then the sound accel when they landed. The rear now follows this ripple more closely and while not totally eliminating the problem, I can tell that there is reduce lift in the rear and better contact of the tires with the road. The turns have also produce less body roll and reduced understeer, a more stable balanced feel. I haven't noticed any benefits in steer in but the car does go through the apex better and I am able to get on the gas sooner coming out of the turn. I haven't noticed any clunking in the rear since I tighten up all the bolts. When I first installed the trailing arms I did have a clunking noise that could be described as the pinion rotating. I thought I had everything tight but decided to crawl underneath and recheck. I used my 10 lbs breaker bar which is about 30" long and the bolt for the up trailing arm was loose. I tighten this bolt and have had no more noises. I am still using the factory mount that bolts to the body. I suspect those that had problems did not have the bolts tight enough. Since I no longer have my shop, I don't have access to a lift or a good compressor to use air tools of sufficient power. I did all the installs by hand and I can tell you, from the factory, the bolts for the upper trailing arm are tight. I used non adjustable Edelbrock upper and lower trailing arms. The lowers use delrin on the body end and spherical joints on the axle end. The upper uses a delrin bushing and a Steeda spherical bushing in the diff housing. Thanks,......Glen BrewerF
Adam Rupp, 1970 Vintage racer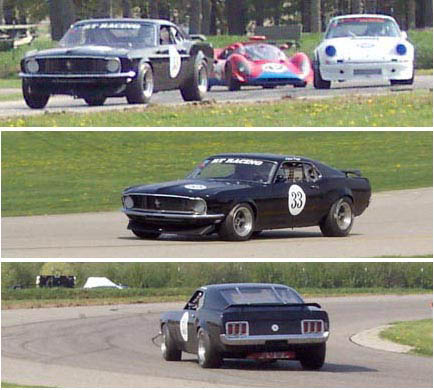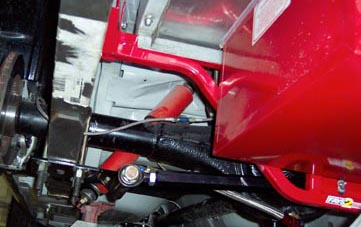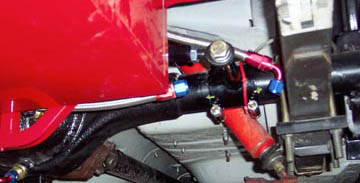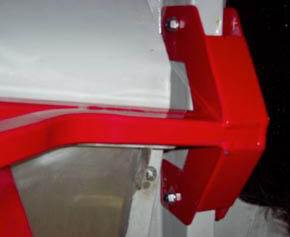 Jim, I just completed the first VSCDA race weekend of 2005 at Gingerman Raceway, in South Haven, Michigan with my 1970 Mustang fastback. With your watts link installed, the car handled fantastic. I wrote down some notes after each session and here's what I think the FAYS2 Watts Link did for my cars handling.
1. The appearance, finish and quality of the FAYS2 watts link was as good or better as any of the race parts we've ordered in the past. It was easy to install, the instructions were clear and overall it's design was simple, strong and efficient.
2. The first thing I noticed from a driving standpoint is that the car was more predictable. Right off I felt that the car was more neutral and the push I had at this track last year was gone.
3. The car was more stable under braking and through the corners. Coming out of the corners I was able to put power down quicker and again the car seemed easier to drive.
4. When I did get into a corner too hot and put the car into an oversteer situation it seemed I was able to drive the car out of the oversteer instead of the car taking control of my mistake.
5. The best part of the weekend was the my win in the Saturday sprint race. A Chevron B36 was on the pole. I qualified second on the grid and a very experienced driver in a Group 6, 911 Porsche was in third. Gingerman is a tight course with some very challenging corner combinations made for the lighter usually better handling Porsche. For all ten laps I kept him behind me in third place. Even in the esses where I thought he might have gotten around me he couldn't. It was the hardest race I've run to date and probably my most rewarding. The Porsche diver told me after the race that he was very surprised he couldn't get by me and my old Mustang.
6. Several people told me my car was visually flatter and more stable than last year and certainly flatter and more stable than the other Mustangs on track.
All else being equal, the FAYS2 Watts Link made a big, big difference in my cars braking, cornering and stability and my driving confidence. Thanks for making a great product at a reasonable price. Adam Rupp, #33, Group 6 VSCDA
Steve Burgess, S197 street car
Drive Testing (simulated race conditions)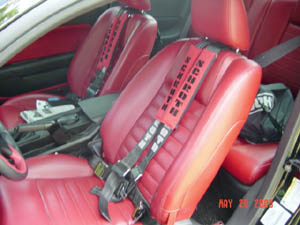 Jim,
1. The car and the FAYS2 Watts link were put through driving maneuvers of all types that might be encountered during a race. Beginning laps were conducted at moderate speeds. Lap speed and maneuver speeds were increased over time and with each successive lap and/or maneuver. This procedure was maintained until the car lost traction beyond control, which in all instances was at speeds well in excess of what could be obtained with the panhard set-up. Maneuvers were:
á Standing-start acceleration (the good old drag launch) á High speed braking from intermediate up to maximum attainable speed (about 135 mph) á Decreasing curve á Increasing curve á Corners of all types from 90 degree to hairpin á Traditional single cone Slalom á Graduated off-set slalom á Very wide off-set slalom á Large skid-pad (40 meter circle)
2. If I had to sum up the driving experience with a single word, that word would be PRECISE. Before the installation of your Fays2 Watts link, I was carving corners. Now it feels like I am using a scalpel! The effects are astounding and I would not have believed it possible had I not experienced it first hand. Since all my prior experience has been with IRS equipped cars, I was finding the limitations of the live rear axle more than a little burden. Now the car handles as though it has an IRS, possibly even better since the Fays2 Watts link is considerably lighter than an IRS.
á All aspects of Weight Transfer have improved. á All aspects of Traction have improved. á Turn-in is much more PRECISE. á Cornering traction has improved beyond all expectations. á Steering is smoother. With the rear tracking the front under corner load transfer compression, fewer corrections are necessary. á Tracking is better by an order of magnitude. It is much easier to hold a line. Much more PRECISE. á Powering out of a turn is much more stable, controllable and PRECISE. á Straight-line acceleration is much smoother and has a much more solid and PRECISE feel to it. á Breaking, whether straight-line or during lateral weight transfer is much more stable, easier to control, more PRECISE. á Traction under hard acceleration has improved. á Traction under hard breaking has improved. á The right rear bias to stiffness, caused by the pan-hard geometry, has entirely disappeared. My expensive suspension system is finally working to it's full potential.
3. Of particular note, I had one, rather spectacular, off-track excursion. During the final maneuver of testing, I was running the wide offset slalom at maximum acceleration in an attempt to break traction, since I had been unable to break traction in prior attempts. At the sixth turn-in, I experienced snap oversteer at approximately 100 mph. I was unable to recover due the high rate of speed, and this led to track departure off the right side of the course with the car pointing 180 degrees back in the direction it came from. This sideways slide through the grass ploughed rather large furrows for about thirty meters and ended with a cloud of dirt and dust over twenty feet in the air. Observers were very impressed with this event. (The tester was also very impressed and needed a quick check to see if fresh underwear were required.) Testing was stopped and the car and the Watts link were examined and all appeared to be well. The car drove fine at highway speeds for over 35 miles back to the shop.
Upon further reflection of this event, I do not believe the Watts link was the cause. I had been warned by the manufacturer of my coil-over suspension to trim the last biscuit off the rear bump-stops if the car was going to be raced. Prior to installing the Watts link, I was unable to achieve enough traction to bottom out the rear suspension, even during a race. But traction was so much better with the Fays2 Watts link that I did in fact bottom out the left rear damper and it was this that caused the snap oversteer.
Regarding damage there was minor damage discovered during removal of the Watts link, that could not really be seen until the link was removed. We found the main PROPELLER BOLT had been bent approximately 2 degress from straight due to the lateral force exerted on the axle during the sideways slide through grass and dirt at high speed. I believe it is a testament to the strength of the components that a .75" diameter hardened bolt actually bent with no effect whatsoever on any other component. I'm not sure you should replace this bolt with an even higher grade, hardened bolt. This occurred due to very unusual circumstances that would be rarely encountered by the majority of users. Further, it's much less expensive, and easier, to replace a bolt than any other component.
The bottom line, I don't know how I ever got along without the FAYS2 Watts Link. It is well beyond any reasonable expectation of improvement and I cannot wait to install the final production version. The only downside to this experience was driving the car after removal of the pre-production prototype. Now that I know what the car is capable of with the FAYS2 Watts link, the driving experience with a pan-hard rod really bites. Thanks, Steve B.