NO EXCUSES!!!?
Thank you to the "S" brand for pointing out all the benefits of our FAYS\'S 2 Suspension Watts Link. And of course for the very flattering compliment of TRYING to copy our design.
In an effort to keep our prices below the $800 mark we continuously work to keep our production costs and advertising budget at a minimum (actually, at the moment we don\'t advertise at all). So, when a competitor points out "innovation and engineering" we feel like it\'s actually our ad since we we\'re the first on the market with a S197 watts link and our engineering is now copied by the big names trying to enter the market. And when they mention a "center pivot point to move up and down to adjust your rear roll center to tune in oversteer or understeer", we realize what they really mean is more or less "rear roll steer" just like we\'ve had on our "first on the market" S197 watts link three years ago! And thanks for letting prospective buyers know that some watts links on the market may not offer infinite adjustability...we\'ve offered infinite adjustability since the very beginning.
And when it comes to competition testing, we\'ve been on race cars, track day cars and street cars from day one and our design and strength has withstood on-track wrecks and off track excursions AND years of street driven punishment. And speaking of strength, in our initial development we raised the back end of a 35,000 pound truck with a jacking pad on our S197 frame work and experienced less than .5 inches of deflection and the frame then returned to it\'s normal configuration. We don\'t use chrome molly but if you bend one of our watts links chances are the rest of your chassis is a write off...and again, how much is a pound or two really worth to you? $300 to $600?
Finally, thanks to the "S" brand for reminding you that we set ourselves apart from the competition with the most market testing, unbeatable adjustability, lean design, cost competitive pricing and widest selection of watts links on the market.
With ongoing product updates, responsive personal customer service, competitive pricing and a 90 day no questions asked return policy we continue to be the stand out leader in the watts link market...and we promise you...NO EXCUSES!
www.fays2.net/fays2_watts_link_22_.html
What\'s the best watts link on the market?
I have avoided posting comments on the many Ford, Mustang, Shelby and "Corner Carving" web sites, preferring to leave those venues to the enthusiasts who frequent them and suppliers who advertise on them. Many of my customers have added favorable posts regarding our product and I appreciate that. In addition, our FAY\'S2 Suspension Watts Link has been mentioned quite often in many threads, both positively and negatively...but as they say, if they talk about you they\'re considering you so we appreciate everyone\'s input.
So now you\'ll get OUR input on the watts link discussion in the only place we feel WE should be posting...on our site.
First off, you should know the theory behind our FAY\'S2 Suspension Watts Link: To provide the enthusiast with a well engineered, easy to install product that requires no cutting or welding on the chassis and makes a significant, positive improvement in the rear axle dynamics and overall handling of the live axle cars we build for. We build it with high quality components, high quality construction and back it with a 90 day, 100% money back, no questions asked guarantee and sell it for a fair price.
Our customers have let us know that our FAY\'S2 Suspension Watts Link works great and they\'ve been appreciative of our customer support and our willingness to discuss any aspect of their modifications. We will be the first to acknowledge that there are a variety of theories and approaches to building a watts link and that there are some very qualified suppliers with well built alternatives to our FAY\'S2 Suspension Watts Link. If someone, someday takes the time and money to put a car on a chassis dyno and compare all the watts links on the market, in all the possible road and track environments and conditions it may be possible to determine which one is the best. Off course you would then have results for a specific car, on a specific day, under specific conditions and...well you get our point.
If you as a customer have questions about watts links please call or e-mail us and we\'ll be glad to talk with you. Often times a post will unintentionally misquote us or leave out some important aspect of our perspective on watts link application and performance. We know that\'s bound to happen and we understand that in the excitement of the threads all the suppliers will get slammed or praised depending on the day. Believe us when we tell you that we understand the construction, application and theory of our competitors\' products and we are not suspension idiots, nor are we narrow minded. We have a very good product that performs very well in the real world and we have a track record to prove it. Before you buy any watts link, do plenty of research, ask a hundred questions and find a quality installation shop that will take time to read the instructions.
So... what is the best watts link on the market? Is our FAY\'S2 Suspension Watts Link the best bang for the buck on the market? We think so. But as for you...do your research...make your choice and enjoy a better handling car.
Jim Fay 920.279.0875
The FAYS2 Suspension Watts Link has proven itself on Vintage and AV8SS race tracks, track days and the street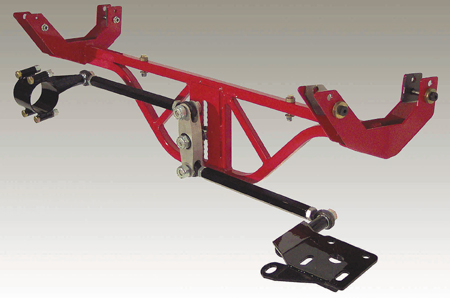 We have the biggest application coverage of Watts Links in the industry and all our products are track AND street tested for unsurpassed durability and performance.
Developed on the track under racing conditions
Mustang road racing started for me in 1974 and I spent years chasing the inherent problem of leaf spring cars. Look closely at the axle and spring suspension set up on your vintage Mustang or Cougar and you will see that it is designed similar to a back yard swing. With the leaf springs anchored at the front and back only, the axle housing is allowed to swing side to side. Imagine what happens to the suspension geometry when you go hard into a corner or get into a threshold braking situation approaching one G with a 2800 to 3900 lb. car. The shocks, springs and tires are giving you an oversteer/understeer condition as you go through the corner. Even the best spring and shock upgrades will not be working at their maximum. Moving up from an A-sedan Mustang to a GTO class, IMSA car, I experienced first hand what a properly controlled suspension does for lap times. When I started Vintage Racing my 1966 coupe, the fast Mustangs were running one-off Watts Links. To be competitive and withstand the demands of Vintage Racing, track days and autocross, I started FAYS2 Suspension and designed my own Watts Link.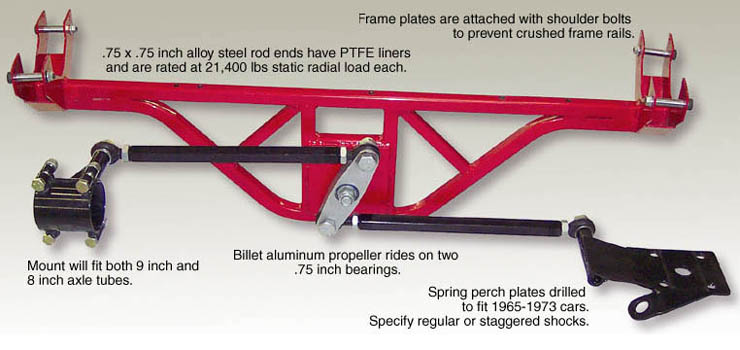 The FAYS2 Suspension Watts Link keeps the axle centered under your chassis so the springs, shocks, traction bars and tires can do their job properly.
The F2S Watts Link lowers your Mustangs roll center and helps keep your handling response symmetrical in both left and right cornering. Because the F2S Watts Link keeps the axle centered under the car, the rear of the car now follows the front suspension rather than fighting it. We chose to mount the F2S Watts Link propeller to the chassis so the cars roll center and center of gravity do not change in relation to each other. This relationship is known as roll couple and has a great effect on your Mustangs handling under cornering, braking and acceleration.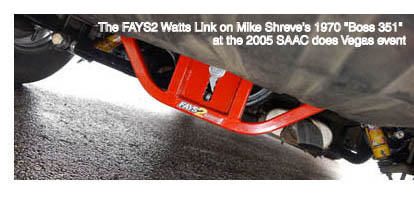 Designed to withstand the racing environment and last on the street
The F2S Watts Link uses 3/4 inch, 22,000 lb. static radial load, molly rod ends with PTFE liners and anodized 1.125 aluminum arms. The propeller is machined from billet aluminum with two 3/4 inch center bearings and is mounted on a .125 steel framework. Both the spring perch/Watts arm mounting plate and the axle mount are constructed of 1/8 and 1/4 inch steel. All hardware is machine grade, grade 5 and grade 8. The F2S Watts Link requires drilling on some applications and (NO DRILLING IS REQUIRED ON THE S197 Mustang and Gen 3 and 4 F-Body APPLICATIONS) but no welding and can be installed on cars with standard or staggered shocks and fits all axle housing diameters. Installation can be completed by the average enthusiast in four to six hours. Most over-the-axle dual exhaust systems will need to be modified to fit (NO MODIFICATIONS TO FACTORY EXHAUST REQUIRED ON THE FOX, SN195, S197 and Gen 3 and 4 F-BODY APPLICATIONS). Finally, a true watts link that fits, requires no welding and makes a serious difference in how your Mustang chassis deals with cornering and braking loads. Because the F2S Watts Link will make a dramatic difference in the control and feel of your car, it is perfect for street cars, track day cars and all out racers. Call us today to ask questions, discuss your application and place your order.
$750.00 - $795.00 U.S. plus ground shipping charges
Cash, check, money orders, MasterCard, Visa, Discover
Please contact Jim Fay at 920.279.0875 8 am to 8 pm Central Time
jim@fays2.net