So...how does the FAYS2 Suspension Watts Link work and what makes it the best watts link value on the market?

We introduced our FAYS2 Suspension Watts Link in February of 2005. From the very beginning we have used the very best American made materials and craftsmanship to build our customers a watts link that is unsurpassed in quality, workmanship and performance.
The main function of a watts link is to eliminate unwanted lateral motion in the rear suspension of live axle cars. A more detailed explanation of live axle behavior can be found on our web site at:
www.fays2.net/fays2_watts_link_13_.html
Watts links work using geometry requiring the watts bars to be equal length and parallel with each other and the axle at some point in the suspension travel. A common misbelief is that the bars have to be parallel at ride height in order for the geometry to work. Our instructions guide you in setting up the bars parallel at ride height because we feel it looks best when viewed from the rear. But in reality, as the cars suspension moves up and down over the roads surface the bars spend most of their life at equal but opposite angles. So, you can raise or lower your chassis on the suspension to get the geometry perfect and not worry about the bars being parallel as your cars ride height changes through out the day.

Because all models of a car, Mustangs as an example, are similar but slightly different in their ride height it is necessary for a properly designed watts link to have infinite adjustability. We design our FAYS2 Suspension Watts Link with three (3) adjustable points: The two axle clamp mounting points and the center pivot (propeller) point for perfect geometry setup. It is impossible to buy a watts link with more adjustability.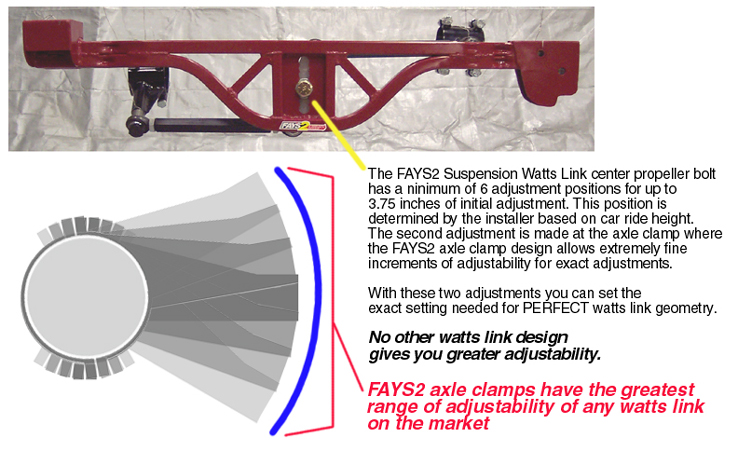 The center pivot point of a watts link determines the vehicles rear roll center. By designing an adjustable propeller mount the FAYS2 Suspension Watts Link allows you to dial in more or less rear roll steer for your specific driving style. Although in the real world, the cars suspension is improved so much that the owners just set it and forget it.

Just as important as complete adjustability is durability and workmanship. The FAYS2 Suspension Watts Link uses industry proven axle clamps on the outboard ends of the watts bars. And unlike some of the competition, we use axle clamps that have a minimum three inch wide clamping surface for over 28 square inches of clamping surface on each axle clamp.Thats over 56 square inches of clamping surface on all S197, SN95 and Fox Body Mustangs and GM G-Bodies and GM Gen 3 and 4 F-Bodies. That means worries about collapsing newer thin wall axle tubes are eliminated. In addition, our 1.25 inch axle clamp tubes are gusseted at 12 o'clock and 3 o'clock for rigidity and are supplied with .75 x 3.0 x 16 thread grade 8 bolts.

Our CNC machined, billet aluminum propellers are 1.25 inches wide and contain two sealed bearings for a 1.0 inch wide surface area on the center .75 diameter pivot bolt. Our square tubing is 14 guage .83 wall tubing for the best combination of light weight, strength and cost effectiveness. When we investigated the greater cost of chrome moly, our enginering research revield that our design far exceeded the demands of a 4000 lb. car in a 4G sudden impact. Keep in mind that at this level of force your stamped steel unibody will have suffered extensive deformity long before the FAYS2 frame gives in. Frame mounting plates are .101 to .125 inch thick Grade 50 steel (50,000 PSI yield strength) and designed to firmly hold the watts frames to the unibody while providing increased rigidity to the unibody. Threaded axle clamp tubes are 1.125 inches in diameter and are made from 1045, Grade 60/72 PSI steel.
Combine all of our design and build features with four years of proven customer satisfaction and our team at FAYS2 Suspension are confident you won't find a better watts link at any price. Backed with a 90 day money back guarantee, the expanding line of FAYS2 Suspension Watts Links is the recognized world wide leader in the watts link market.
Street, track or race...the FAYS2 Suspension Watts Link is where you want start when you want more stability and better handling for your ride.
Please contact Jim Fay at 920.279.0875 8 am to 8 pm Central Time
jim@fays2.net