The only Watts Link made exclusively for 1965 through 1973 Mustangs and Cougars
Adams Rupp's 1970 Mustang Vintage Racer race report.

TO: FAYS2 Suspension
ATTN: Jim Fay
I just completed the first VSCDA race weekend of 2005 at Gingerman Raceway, in South Haven, Michigan with my 1970 Mustang fastback. With your watts link installed, the car handled fantastic. I wrote down some notes after each session and here's what I think the FAYS2 Watts Link did for my cars handling.
1. The appearance, finish and quality of the FAYS2 watts link was as good or better as any of the race parts we've ordered in the past. It was easy to install, the instructions were clear and overall it's design was simple, strong and efficient.
2. The first thing I noticed from a driving standpoint is that the car was more predictable. Right off I felt that the car was more neutral and the push I had at this track last year was gone.
3. The car was more stable under braking and through the corners. Coming out of the corners I was able to put power down quicker and again the car seemed easier to drive.
4. When I did get into a corner too hot and put the car into an oversteer situation it seemed I was able to drive the car out of the oversteer instead of the car taking control of my mistake.
5. The best part of the weekend was the my win in the Saturday sprint race. A Chevron B36 was on the pole. I qualified second on the grid and a very experienced driver in a Group 6, 911 Porsche was in third. Gingerman is a tight course with some very challenging corner combinations made for the lighter usually better handling Porsche. For all ten laps I kept him behind me in third place. Even in the esses where I thought he might have gotten around me he couldn't. It was the hardest race I've run to date and probably my most rewarding. The Porsche diver told me after the race that he was very surprised he couldn't get by me and my old Mustang.
6. Several people told me my car was visually flatter and more stable than last year and certainly flatter and more stable than the other Mustangs on track.
All else being equal, the FAYS2 Watts Link made a big, big difference in my cars braking, cornering and stability and my driving confidence. Thanks for making a great product at a reasonable price.
Adam Rupp, #33, Group 6 VSCDA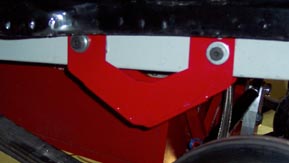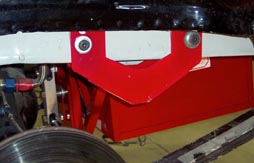 View from side showing frame plates bolted in.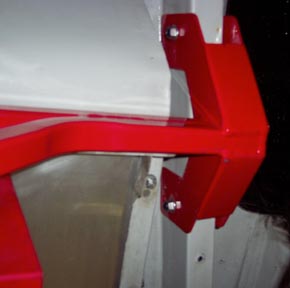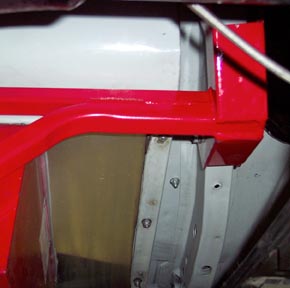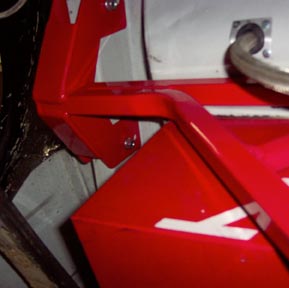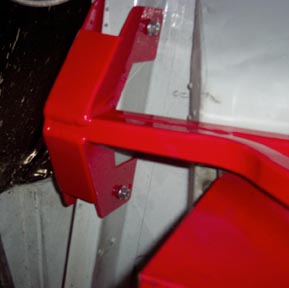 Above images show Watts Link attached to frame rails and in position ahead of fuel cell.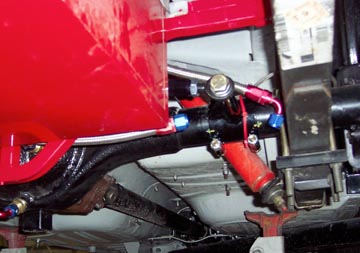 Above views show suspension unloaded from rear.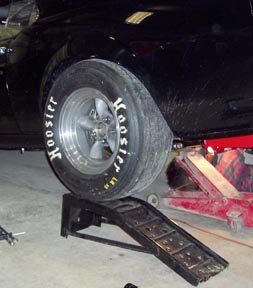 Above shows car on drive on ramps. We recomend setting the car on these types of ramps to set the watts bars parallel if you can not use a drive on hoist. ALWAYS BLOCK THE WHEELS TO PREVENT THE CAR FROM MOVING WHILE WORKING UNDER IT.